8 Reasons to Repaint Your Commercial Property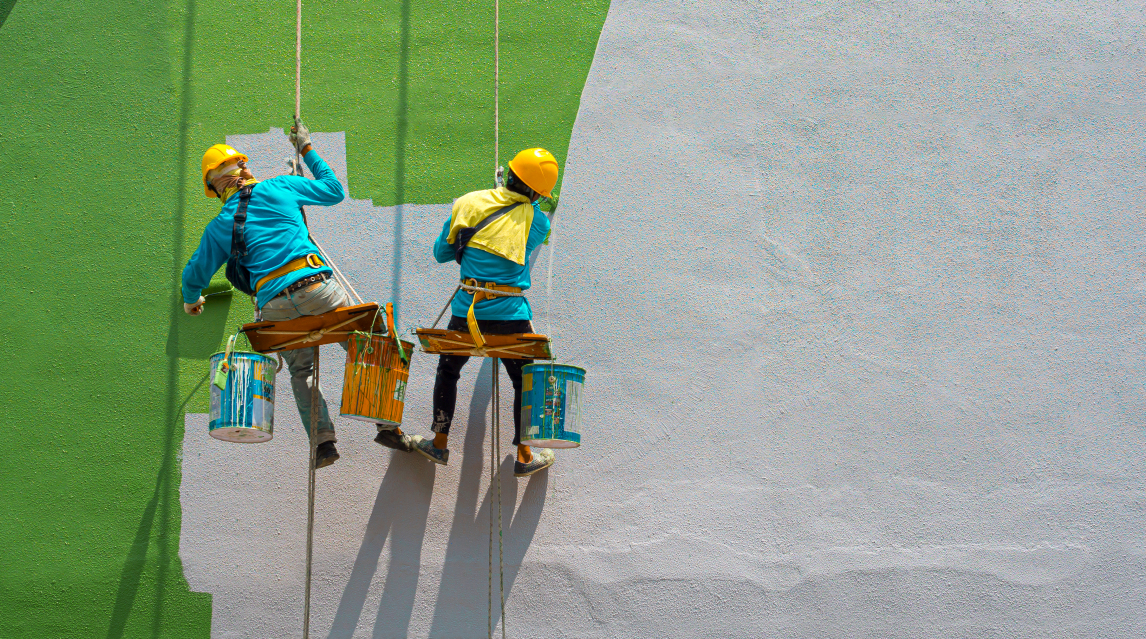 Keeping a commercial property in good condition is an important element of having a successful business. Repainting is a component of commercial property care that is frequently disregarded yet has a significant effect on the visual appeal and longevity of a building.
Repainting your commercial property is a low-cost approach to improve its appearance, preserve it from environmental damage, and raise its value. With so many advantages to repainting, you ought to consider it a critical component of your property care plan.
8 Reasons to Regularly Paint Your Commercial Property
Improve Curb Appeal

One of the most important reasons to paint your commercial property is to improve its curb appeal. Repainting a commercial building may dramatically improve curb appeal by giving it a brand-new, eye-catching appearance that draws attention and creates a favorable first impression on visitors and potential clients.

Protect Against Weather Damage

Commercial properties are exposed to various weather conditions, including rain, snow, and extreme heat. Your commercial building's exterior may sustain damage from certain weather conditions, which could cost a lot of money to fix. Repainting your commercial property can provide a barrier against environmental conditions, preventing damage from the elements and extending the life of your building.

Enhance Your Brand

Your commercial property is an extension of your brand. Repainting your building using your brand's colors might help you create a consistent and recognizable image. A carefully selected color scheme may also leave a lasting impact on your clients, making your company more memorable and recognizable.

Increase Property Value

The value of your commercial property might be increased by repainting it. A well-kept building is more appealing to potential purchasers, which can result in a higher selling price if you decide to sell the property. A fresh coat of paint can also make the property look more contemporary and modern, which will raise its market value.

Comply With Safety Regulations

Commercial property maintenance is essential to ensure the safety of your employees and customers. Over time, paint can deteriorate, which can reduce traction on stairs and floors. Signs and emergency exits can become difficult to read and locate due to faded or peeling paint. Regular interior and exterior painting can help to ensure that your building property is well-maintained, free of hazards, and up to code which is an important aspect of complying with safety regulations.

Prevent Pest Infestations

In numerous ways, painting commercial property can assist reduce insect infestation. The paint on a building's walls can wear away over time, producing small holes and fissures through which bugs can enter. Repainting can help seal any cracks and keep pests out of your building. Furthermore, old paint frequently peels and flakes, producing locations where pests can readily nest and breed.

Protect Your Investment

Property maintenance is vital for protecting an investment since it helps to ensure that the property retains its value over time. Regular care, such as repainting, can keep the property from degrading and requiring costly repairs or replacements.

Repainting your business property is a wonderful approach to protect your investment by preserving the value and extending the life of the property. This also aids in the identification and resolution of minor concerns before they escalate into big issues that may lower the property's value.

You can keep your business property in good shape, decrease the need for costly repairs, and extend its lifespan by repainting it on a regular basis, ultimately safeguarding your investment.

Boost Employee Morale

The working environment of your employees has a big impact on their productivity and job satisfaction. Employees spend a significant amount of time at work, and a dreary and dismal environment can affect their attitude and productivity.

Repainting the commercial building can assist create a more appealing and uplifting environment, which can enhance staff morale and create a good environment that encourages collaboration and innovation.

Painting your commercial property can assist to make it a more welcome and pleasant environment for your employees and anybody who enters.
Another Enhancement to Consider: Online Visibility
A good paint job may catch a customers' eye out in public, but how about your business's online visibility?
To keep ahead of the competition in today's corporate climate, it's critical to invest in preserving your commercial property. However, because the majority of consumers spend a significant amount of time online, having a great online presence is equally important.
In today's digital age, it is crucial to enhance your business online visibility. With the vast majority of people utilizing the internet to investigate products and services, having a strong online presence may make or break your business's ability to attract new customers and thrive.
Strategies for increasing online visibility can include optimizing your website for search engines, creating engaging and shareable content on social media, utilizing paid advertising campaigns, and developing relationships with other businesses and influencers in your industry, all of which you can learn more about by clicking on the linked text above.
You may enhance brand awareness, build reputation, and eventually drive more visitors and revenues to your business simply by enhancing its online visibility.
Conclusion
In conclusion, it is crucial to paint your commercial property regularly to maintain its appearance and protect it from weather damage, pests, and safety hazards.
Regular commercial property maintenance, including exterior and interior painting, can also increase the value of your property, enhance your brand, protect your investment, and boost employee morale.
To get the most out of your commercial building, consider hiring painting contractors for you to invest in regular painting and maintenance.
Additionally, it is crucial to consider enhancing your business's online visibility, as it is an important aspect of attracting new customers and growing your business. By taking these steps, you can ensure the longevity and success of your commercial property and business.
Learn More About Commercial Properties Here
NNN Deal Finder is a real estate company specializing in triple net lease (NNN) properties. With a focus on offering its clients with high-quality, strong investment options with predictable cash flow.
NNN properties are commercial properties in which the tenant is responsible for all operational expenses in addition to rent, such as property taxes, insurance, and maintenance charges.
This form of lease agreement offers landlords a low-risk investment option because they can count on a consistent source of income with little management responsibilities.
NNN Deal Finder enables investors to search for NNN properties in the United States based on numerous criteria such as location, property type, and tenant industry.
They offer specific property information, such as financial data and lease terms, to assist investors in making sound investment selections.They have a team of experienced real estate professionals on hand who can advise you on property selection, due diligence, and financing choices.